Cracker! The Best Dog in Vietnam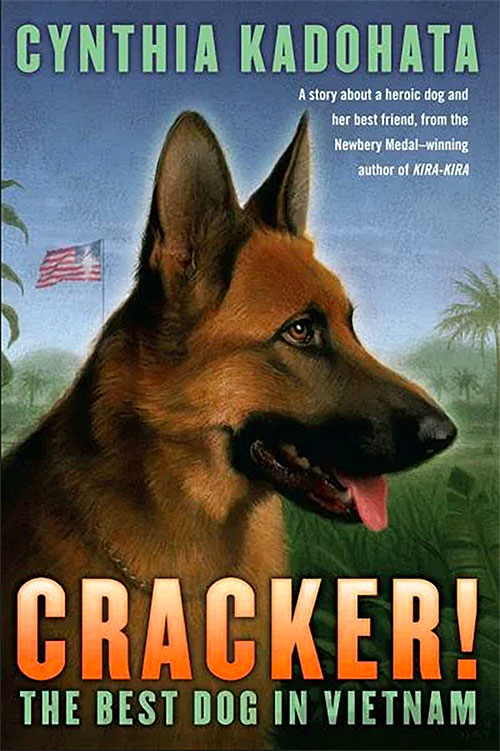 Cynthia Kadohata
Caitlyn Dlouhy Books
Atheneum, 2007
hardcover: 978-1416906377
A story about war and the bond between a dog and the soldier she loves.
Cracker is one of the United States Army's most valuable weapons: a German shepherd trained to sniff out bombs, traps, and the enemy. The fate of entire platoons rests on her keen sense of smell. She's a Big Deal, and she likes it that way. Sometimes Cracker remembers when she was younger, and her previous owner would feed her hot dogs and let her sleep in his bed. That was nice, too.
Rick Hanski is headed to Vietnam. There, he's going to whip the world and prove to his family and his sergeant—and everyone else who didn't think he was cut out for war—wrong. But sometimes Rick can't help but wonder that maybe everyone else is right. Maybe he should have just stayed at home and worked in his dad's hardware store.
When Cracker is paired with Rick, she isn't so sure about this new owner. He's going to have to prove himself to her before she's going to prove herself to him. They need to be friends before they can be a team, and they have to be a team if they want to get home alive.
Told in part through the uncanny point of view of a German shepherd, Cracker! is an action-packed glimpse into the Vietnam War as seen through the eyes of a dog and her handler. It's an utterly unique powerhouse of a book.
What Other People Have to Say
As voted on by kids readers:
Buckeye Children's Book Award (Ohio)
California Young Reader Medal
Emphasis on Reading Book Award (Alabama)
North Carolina Children's Book Award
South Carolina Book Award
William Allen White Children's Book Award (Kansas)
ABC covers Ohio sixth graders who read Cracker every year.