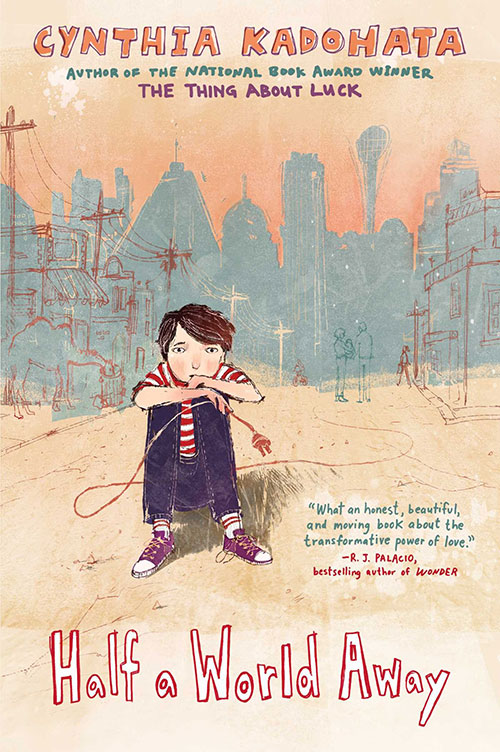 Cynthia Kadohata
Caitlyn Dlouhy Books
Atheneum, 2014
hardcover: 978-1442412750
Loneliness doesn't last forever: a story about the transformational power of love.
Eleven-year-old Jaden is adopted, and he knows he's an 'epic fail.' That's why his family is traveling to Kazakhstan to adopt a new baby—to replace him, he's sure. And he gets it. He is incapable of stopping his stealing, hoarding, lighting fires, aggressive running, and obsession with electricity. He knows his parents love him, but he feels…nothing.
But when they get to Kazakhstan, it turns out the infant they've travelled for has already been adopted, and literally within minutes are faced with having to choose from six other babies. While his parents agonize, Jaden is more interested in the toddlers. One, a little guy named Dimash, spies Jaden and barrels over to him every time he sees him. Jaden finds himself increasingly intrigued by and worried about Dimash. Already three years old and barely able to speak, Dimash will soon age out of the orphanage, and then his life will be as hopeless as Jaden feels now. For the first time in his life, Jaden actually feels something that isn't pure blinding fury, and there's no way to control it, or its power.
From camels rooting through garbage like raccoons, to eagles being trained like hunting dogs, to streets that are more pothole than pavement, Half a World Away is a spark of a novel.
What Other People Have to Say
"…The narrator is troubled 12-year-old Jaden, adopted from Romania. Jaden is angry about everything—furious that his mother gave him up; resentful that he's had to leave his 'true home'; aggrieved that now they are adopting a new baby—one he thinks his parents are bound to like better—from a small dusty orphanage in Kazakhstan.
"…Moment by moment, Kadohata never stumbles. Unlikeable characters turn into heroes; adversaries form truces; love leaps out from the dark corner where the bogey-man appeared to be hiding.  (Kadohata) accomplishes all this by way of flat-out gorgeous writing…and never veers for an instant from the truth of the story…If literary genius is composed, at least in part, by an uncanny ability to enter other worlds, then Half a World Away proves Cynthia Kadohata's genius—not that there was any doubt." (Boston Globe)
"This is just another wonderful piece of storytelling with strong plot, characters, and setting." (Jonathan Hunt, Coordinator of Library Media Services at the San Diego County Office of Education)