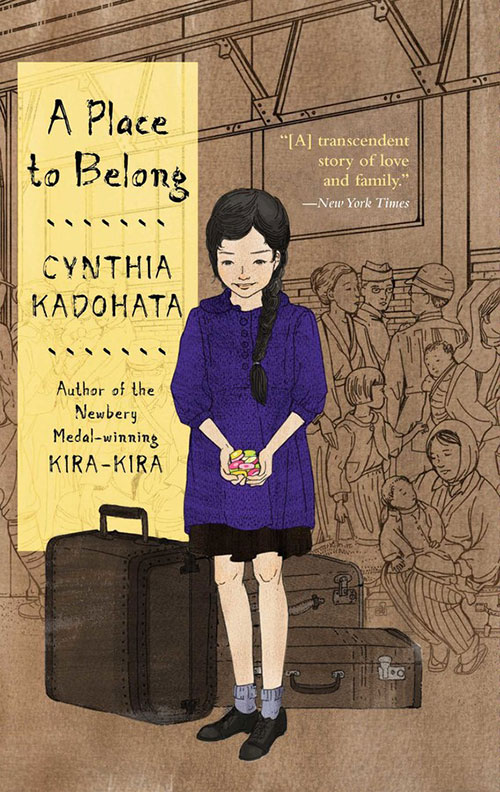 A girl's parents renounce their citizenship. With nowhere to belong, Hanako must discover who she is.
World War II has ended, but while America has won the war, twelve-year-old Hanako feels lost. To her, the world, and her world, seems irrevocably broken.

America, the only home she's ever known, imprisoned then rejected her and her family—and thousands of other innocent Americans—because of their Japanese heritage, because Japan had bombed Pearl Harbor, Hawaii.

Japan, the country they've been forced to move to, the country they hope will be the family's saving grace, where they were supposed to start new and better lives, is in shambles because America dropped bombs of their own—one on Hiroshima unlike any other in history. And Hanako's grandparents live in a small village just outside the ravaged city.

The country is starving, the black markets run rampant, and countless orphans beg for food on the streets, but how can Hanako help them when there is not even enough food for her own brother?

Hanako feels she could crack under the pressure, but just because something is broken doesn't mean it can't be fixed. Cracks can make room for gold, her grandfather explains when he tells her about the tradition of kintsukuroi—fixing broken objects with gold lacquer, making them stronger and more beautiful than ever. As she struggles to adjust to find her place in a new world, Hanako will find that the gold can come in many forms, and family may be hers.
What Other People Have to Say
ALA Notable Book
Bank Street Best Children's Book of the Year
Booklist Editors' Choice
California Book Award from The Commonwealth Club
Horn Book Fanfare Best of 2019
Kirkus Reviews Best Middle Grade Book of 2019
National Book Award Longlist
Parents' Choice Gold Award Winner
Southern California Independent Booksellers
Middle Grade Book of the Year
Five Starred Reviews
"The book is filled with unexpected joys, and the most sustaining are the connections Hanako feels with her family." (New York Times Book Review)
"This is a book to sink deep into." Horn Book, starred review
I think all things in life start for me with my parents. When I was a young child, we lived in Georgia and Arkansas towns where there were very few Nikkei—people of Japanese ancestry. All of them were always involved with the hard work of sexing chickens—separating male from female chickens shortly after they hatch. My mother was a stay-at-home mom. We were part of a small, self-contained community, where my family was my everything. I loved this protected, insulated existence. I loved chasing butterflies with my siblings, I loved going to the library with my mom, and I even loved burning garbage in our incinerator on Friday nights. I loved doing nothing.
It was very different from the way my mom and dad grew up. My mom grew up in Hawaii, with seventeen people living in three small rooms. My dad began work at nine, picking celery at his parents' tenant farm. Work was his life from then until he retired in his seventies. He and his second wife lived very modestly, but he ended up having to work extra-long because he was swindled out of their life savings. He was in fact a very naive, believing person. My parents were good people, who did everything they did for no other reason than to empower their children in building better lives.
In between all this working, my dad was incarcerated at the Poston Relocation Center in Arizona. I wrote about this place in Weedflower. He was drafted out of that camp and served as an interpreter in Japan.
But I knew there was another story of the camps, of the men who refused to be drafted, of the men and women who objected—oftentimes strenuously—to their treatment. After Weedflower came out, I felt inside myself a yearning to know more about these others. They too had worked since they were very young. They too were concerned about the future empowerment of their children.
I knew there was a stigma attached to these families who took a different path into the future, who renounced their citizenship, who were deported. This stigma seemed wrong to me. To me, people with very similar self-interests were put under a lot of pressure and ended up on different sides, in different camps, and ultimately in different countries. I'm proud of all of them, both "sides," of their strength and decency under extreme pressure, and of the different, difficult choices they made. Both Weedflower and A Place to Belong are my love letters to all of them, and to all of us as well, in making the difficult choices we face—soon, now, always.
California Book Award Acceptance Speech
I'm extremely honored and humbled to be receiving this award that so many great California writers have received in the past. A Place to Belong is a book that means a lot to me. A few years ago in Cudahy, California, I stood in a kitchen where an elderly man was dying. Decades earlier he and his family had been shipped to Tokyo after being released from Tule Lake. He had told me, "Everything the government did was wrong. They knew we weren't dangerous." At age 21, he had saved the lives of his younger siblings who were also shipped to Japan. He had given up every dream he'd ever had in order to find a way, in the devastated Tokyo area, to get his family food, to ensure that his younger siblings had a path forward in life. He lied and he stole in Japan to feed his family and to help them go to school, if that was what they wanted. When he regained his U.S. citizenship more than a decade later, he opened an azalea nursery and returned to the honest life of hard work that he'd lived before the war.
His death reminded me of the great scene in the movie Blade Runner, where a replicant feels empathy for his nemesis and decides to save his life, right before he himself dies. The replicant says,
I've seen things you people wouldn't believe.
Attack ships on fire off the shoulder of Orion.
I watched c-beams glitter in the dark
near the Tannhäuser Gate.
All those moments will be lost in time, like tears in rain.
Time to die.
A Place to Belong was my attempt to prevent one particular moment in history from being lost in time like tears in rain. From the bottom of my heart, thank you for this prize and this honor.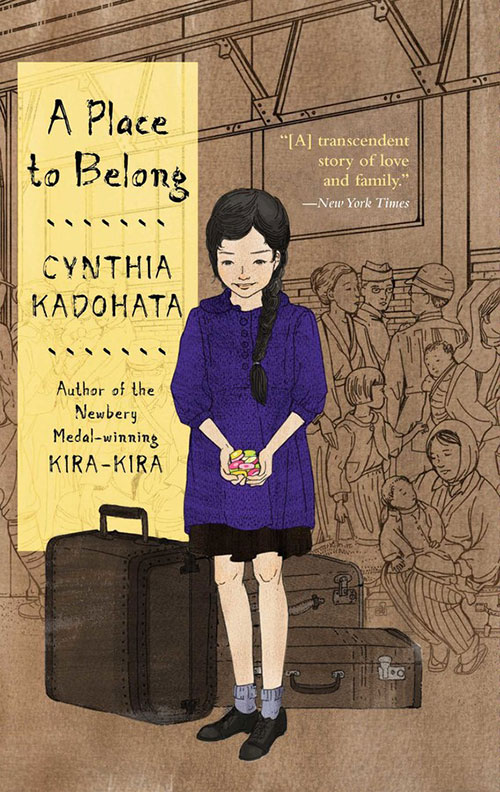 Available in hardcover, paperback, audio book, and e-book formats