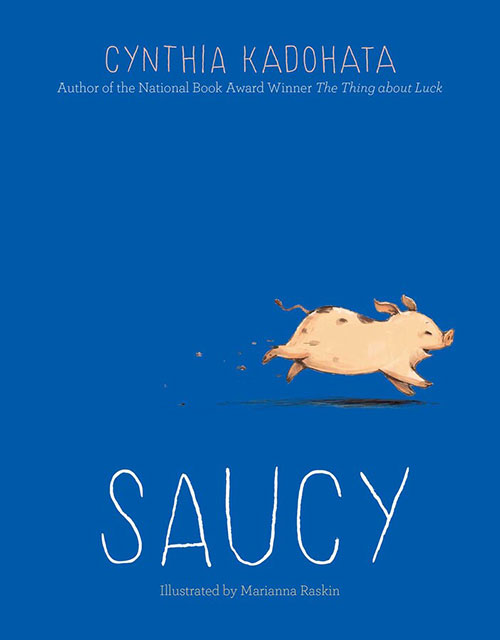 Cynthia Kadohata
illustrated by Marianna Raskin
Caitlyn Dlouhy Books
Atheneum, 2020
hardcover: 978-1442412781
Being a quadruplet can make it hard to stand out from the crowd. Becca's three brothers all have something that makes them…them. Bailey has his music and dancing, Jammer plays hockey, and K.C. thinks they're all living in a simulation and doesn't see the point of doing much of anything. Becca is the only one with nothing to make her special.
But when she finds a tiny, sick piglet on the side of the road, Becca knows this is it. This is her thing. 
What Other People Have to Say
"Readers will love the zany antics brought on by raising a pig, but what makes this a must-read is Becca and her family, with all their love, flaws, and compassion." (School Library Journal, starred review)
"A lively, heartwarming family story." (Kirkus Reviews, starred review)
"Becca and Saucy are the entertaining, delightful heart of this story featuring a close-knit family and a child considering the ramifications of cruelty and of healing. Newbery Medalist Kadohata (Kira-Kira) realistically portrays Becca's growth through rich internality, and her journey to loving herself and Saucy enough to give both what they need feels organic and true." (Publishers Weekly, starred review)
"If Kadohata's heartfelt story doesn't tempt readers to rescue a pig, Marianna Raskin's endearing drawings surely will. These expertly placed images of Saucy, Becca, her family and the small town they inhabit will tug at you long after you close the book." (The New York Times Book Review)
"Saucy is a tender and sweet middle grade novel with a heavy dash of slapstick comedy sure to give it strong appeal for younger middle grade readers." (Bookpage)
2022 Rhode Island Children's Book Award Nominee
https://olis.ri.gov/youth/ricba/lists/nominees/ricba2022nominees.pdf
I'm at an age when I look back at my life more and more and just…think. And one of the things I think about is how you encounter certain good people and bad, as well as many animals (all good), and that these people and animals seem to be beckoning, You: follow me. I think the choices you make with these special people and animals are a major force in determining the path of your life.
For instance, I adopted a half-Doberman from the Pasadena Humane Society more than twenty-five years ago. Her name was Sara. When I got her home, she became aggressive and began leaping into the air nipping at my forehead, even drawing blood. I'd planned to make her an inside dog, but I was actually scared she would kill me in the night. So I set up a living area for her in the enclosed back porch. I tried to bond with her every day, but she didn't trust me. Eventually I took her on a road trip with me, because I didn't know what to do with her while I was gone. And one night on the trip I gave her a pillow instead of her dog bed. She loved that pillow! That pillow changed her. She slept with it every night for years, as she became my best friend. You would not believe how much I ended up loving that dog. I always tell people, that dog taught me how to love everybody who ever came after. 
Saucy is the story of a young girl, Becca, who is walking with her family one night and comes upon a dying factory farm piglet. The choices Becca makes transform both their lives. In essence, Saucy (in her bossy way) tells Becca, You: Follow me. I feel like she's a magical piglet, like Sara was a magical dog, and to me, this is the story of the changes that can happen in your life when you encounter someone or something new, and special, and you make the right choices. (We sometimes make the wrong choices, of course, but this is a happy story.) Lives are saved, friendships are formed. It's an optimistic story for this sad and disturbing year.
There was a point a few months ago where my editor and I were discussing a couple of graphic descriptions of factory farms and the profound suffering that happens within them, and I believe we did the right thing by deleting those descriptions, by getting the point across more mildly. I just feel extremely acutely, in this of all years, that sometimes kids just need a happy story to help them move forward with their lives; to fortify them for the long road ahead; and most importantly, to tell them, "You are strong enough to change the world"—or even the life of a single piglet.
This is the story of good choices after bad ones, about redemption through animals, and about how animals, through the magic they've been endowed with, can help us form our lives into more than our lives would have been otherwise. 
There's a group of kids in Ohio who read my book, Cracker. They decided afterwards to start regularly going to a local dog shelter and sit on the concrete and read to the shelter dogs. I consider this one of the crowning achievements of my career. We share this planet with a huge variety of people and animals. Some of them are suffering. We move forward together, or not at all.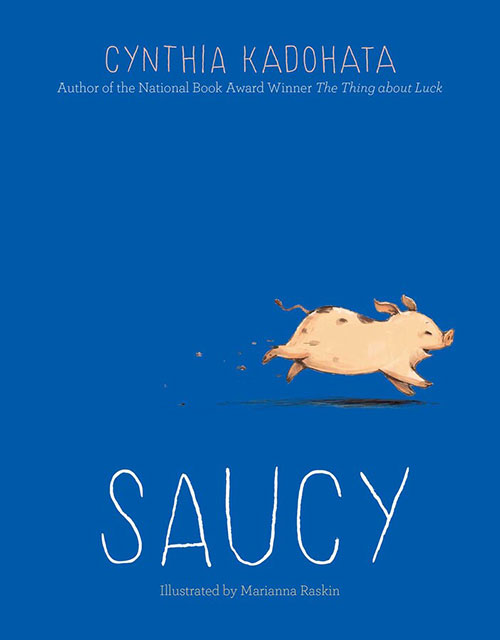 Cynthia Kadohata
illustrated by Marianna Raskin
Caitlyn Dlouhy Books
Atheneum, 2020
hardcover: 978-1442412781
Available in hardcover, audio book,
e-book, and large print formats